Let us guide you through the world of decorative packaging for Christmas
Decorations, wrapping paper, ribbons and
an infinite array of accessories
Christmas is not just a celebration of tradition, but rather one which stays alive thanks to its ability to be interpreted, year after year, through products and decorations that can delight and amaze. Gifts make it possible to enhance the magic, making it a unique event, preceded by twelve months of pure anticipation. Putting together the presentation of a gift means giving value to a feeling, concealing its essence until the much-awaited climax when the wrapping is finally torn open.
Wrap your magical gifts, discover our catalogue, which from time to time reinterprets the magic of a second Christmas, inspired by the world of fashion, furniture and design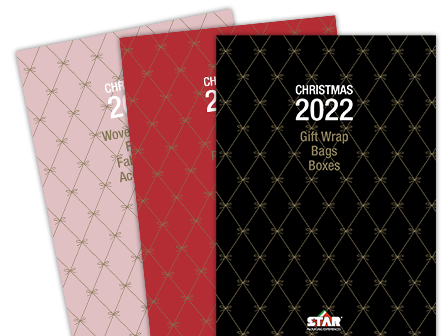 Shapes, materials, designs and colours are the ingredients that our creatives skilfully combine every year to obtain and offer patterns and compositions specifically designed to bring out the best in every gift, helping to make that beautiful moment of discovery truly memorable.
Creations for every context
Every line of wrapping and decoration material is designed to fully meet your needs, whatever product field your business operates in.
The quality of STAR gift wrapping at the best price
Do you have a special request or would you like to find out more about our collection?
Contact our experts, and together you can explore your needs in more depth.